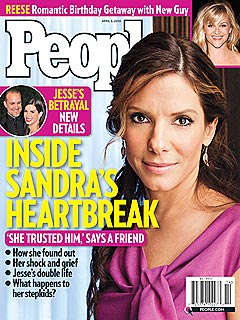 n the wake of a scandal that has rocked her marriage, Sandra Bullock is quietly determining her next move, say friends.
Stunned by revelations that her husband Jesse James cheated with tattoo model Michelle McGee, Bullock "needs time to grieve and process what has happened," a close friend tells PEOPLE in its new cover story, on newsstands Friday.
The friend says Bullock, 45, learned of her husband's betrayal just eight days after her triumphant March 7 Oscar win.
"Her family was everything to her," adds the friend.
Another pal tells PEOPLE that while Bullock completely trusted James, 40, he could show another side of himself when she wasn't with him. "Jesse is such a chameleon," says this pal.
According to a source close to James, the motorcycle mogul hopes to salvage his marriage and is currently focused on caring for his three children: Chandler, 15, Jesse Jr., 12, and Sunny, 6.
"He's trying to keep the lives of the children normal," says the James source.