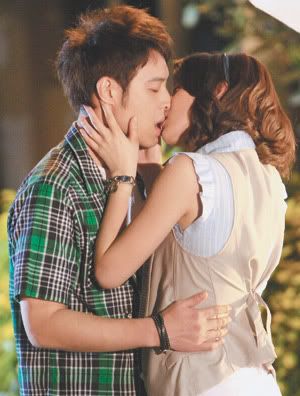 Wilber Pan and Sandrine Pinna (Chang Yung Yung) are currently filming FTV's new idol drama <<
愛∞無限
>> (official name: Endless Love). Sandrine was too into her character: she french kissed Wilber and tilted her head several times during the kiss. Her action scared Wilber and he backed away after the kiss; he even make several NG because of that. He explained: "When she was sucking my lips, totally scared me!" Maybe he was too shy to kiss in public, after this kissing scene, he jumped around randomly like a monkey and didn't know what to do.
In order to film this kissing scene, the two had to adjust for different angles and kissed at least 10 times. Director Lin He Lun even told Sandrine to turn her head during kissing. Wilber was scared by this hot kiss and the director yelled at him: "You kiss the way I tell you to kiss!"
The two just paired up to film this new idol drama and there are rumors about them lately. Even Wilber is exposed having a girlfriend. Wilber said he likes mature girls and Sandrine is one of those rare girls, who have mature thoughts when she is several years younger. But whether they are attracted to each other? He answered: "Infinite love." As for the "girlfriend," he explained she is his middle school classmate.
Source:
Liberty Times; UDN /
Translation:
KAY @ kays-entertainment.blogspot.com
Official Trailer #1: