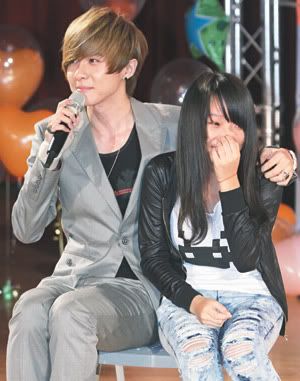 Danson Tang turned 26 recently. Around 400 fans from Korea, Hong Kong, Italy etc came to Taipei yesterday to celebrate their idol's birthday. Danson secretly practiced piano and played a song he composed <<灰色河堤>>. However, he worked out too much, causing inflammation on his right hand. But he didn't want to disappoint fans so he continued to play piano. He was nervous that he "shook 10 times every second."
Danson was moved to see fans are still supporting him over these years. He didn't mind interacting closely with fans, even acted out mini dramas with them. School started recently and some fans came in their uniforms. Danson reminded them to study more and won't allow them to follow celebrities by skipping classes.
Danson made his wishes: good health, continue to stay on the stage and have a stable financial base, give better life to mother. As for the last wish, he kept it in secret. Others asked whether it is related to love? He said mysteriously: "Of course, you will know by looking at my English name." Everyone was confused and he explained he is a "single Tang"
[Danson sounds like Dan Sheng, which means single in Chinese]
and wants to fall in love.
Fans gave him many types of gift. Besides cakes and birthday peaches, they sang Chinese, English, Japanese, and other versions of birthday songs together. Knowing Danson likes photography, he received expensive camera tools and he was very moved. But he hopes fans don't spend too much again.
Source: UDN / Translation: KAY @ Kay's Entertainment