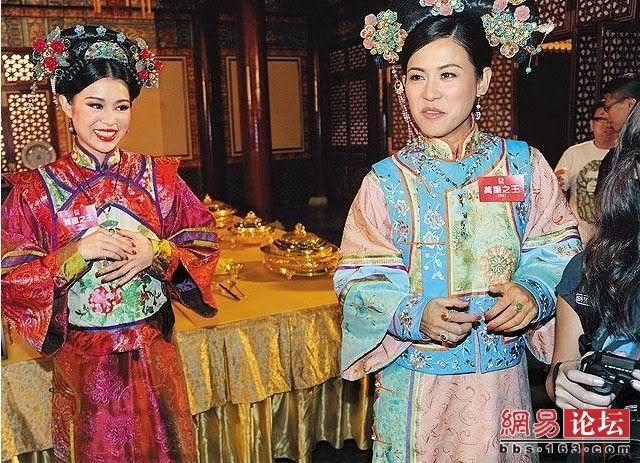 More bad publicity for Jessica Hsuan. Currently shooting new ancient drama <<萬鳳之王>> (rumored to be the mix of "War and Beauty" and "Beyond the Realm of Conscience"), when Jessica finds Myolie Wu is playing an attention-grabbing evil queen, just like Tavia Yeung in "BTROC," she requests to edit screenplay of the drama but never received cooperation from related units. "Jessica's popularity isn't as good compared to before. Plus she is not the 'biological daughter' of TVB. Of course the executives aren't taking her opinions seriously," a behind-the-scene source discloses.
Knowing she has to work with the troublesome Jessica, Myolie is well prepared: arrive on time and remember her scripts. Jessica is forced to pretend to be good friends with her. As for Jessica treating her like an enemy, Myolie smiled then shout surprisingly: "No way! No...I'm scared."
Myolie invites Jessica to the middle spot when taking group pictures
Been dating foreigner boyfriend Ruan for about a year, it's known Jessica already pushing him to get married, however, he doesn't want to be restrained by marriage this quickly. Jessica can only tries her hardest to change his view, even takes time off to accompany him after busy-working. She would try to get off from work early everyday, once asked to shoot her scenes first so she can leave early. She expressed her dissatisfaction with a black face when other actors make NGs. Since she belongs to the A-class, actors from other classes are trying to stay away from her as much as possible to avoid getting in trouble.
The cast went to shoot outdoor scenes earlier. Besides testing out necessary scenes, Jessica always stood at the corners and faced others with her back. Other people didn't even want to chat with her. Although waiting on the car for her turn to shoot, Nancy Wu left when she saw Jessica was done with her part. Nancy rather stood under the sun to wait and didn't want to stay in the car with Jessica.
Jessica's "Rival" List
Maggie Cheung: Once collaborated in the classic TVB series "Old Time Buddy" & "Cold Blood Warm Heart", their dispute lasts the longest. Jessica boycotted Maggie along with staff and exposed Maggie is often late, even dissing her in front of her.

Amy Kwok: When working in "Secret of the Heart" (1996), filming must temporarily stop when Amy was the guest for Miss Hong Kong. The affected Jessica didn't care Amy was working for the company and actually yelled at her.
Mui Siu Ching (TVB producer): When shooting "When Dreams Come True" (2000), Jessica was dissatisfied Mui was supporting younger sister Mui Siu Wai (actress) that she even pretended sick to miss work, putting series on hold. It was known she attended to a movie event with Aaron Kwok that day, not sick at all.
Joe Ma: Collaborated in "Lady Fan" (2003). It was rumored she looked down at Joe because he wasn't as popular as she was.
Raymond Lam: Raymond's constant lateness dissatisfied Jessica when shooting "The Drive of Life" (2007).
Kiki Sheung: Collaborated in "Sisters of Pearl" (2009). Jessica treated herself as a super A-class star. Kiki didn't buy that and lost control. The two treated each other like strangers.

Source: Next Magazine / Translation: KAY @ Kay's Entertainment