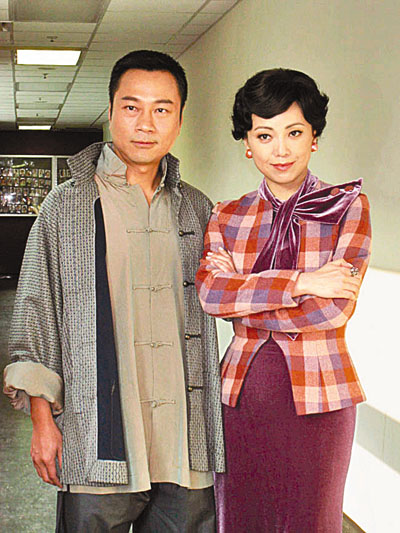 "Rosy Business", starring Wayne Lai and Sheren Tang, is widely popular. TVB decided to film another story with the original cast, temporiarly naming it "巾幗梟雄之義海豪情". The story will set in the early Republic and will start filming in March of next year. The two went to film TVB's sales presentation yesterday. Sheren appeared with an early republic style costume. In contrast, Wayne's costume is no different than his Chai Gau look previously.

Sheren expressed although the story left out Kiki Sheung, Ron Ng, and Suki Tsui, but will add Raymond Wong and Fala Chen. Asked whether there will be romance between the two, Wayne said there must be, but the result is unknown. Sheren said that the reason why "RB" had high ratings is because the two didn't have a relationship. She said, "In fact, no kissing but having pure affections is the highest realm!" Wayne added and expressed the two communicates spiritually, and also should let the audience have a room for imagination.

Brought up the subject that Sheren's biggest enemies for this year's TV Queen award are Charmine Sheh and Tavia Yeung. Sheren said immediately, "There are many competitors, also Teresa Mo, you think she doesn't exist?"


Source:
Wenweipo /
Translation:
KAY @ Kay's Entertainment