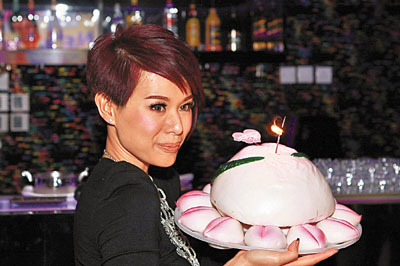 Today is Myolie Wu's 30th birthday (November 6, 2009). Before she went to Hokkaido to film "The Morning of Flying Fish in Hanami" (temporary name) with Chilam Cheung, Tavia Yeung, and Michael Tse, Myolie invited fans from Mainland, Malaysia, Singapore, Hong Kong, etc to celebrate birthday together in KTV. Fans from different areas gave different cakes to Myolie. Although she afraid of getting fat, but Myolie said she wouldn't care much because it only happens once a year.
This year is the 10th year since Myolie's debut. When she recalled the past from the beginning, from competed in the beauty pageant, was fat then skinny again, and now as a singer, Myolie was emotionally touched and tears fell when she was singing the birthday song with fans.
Myolie said, "I received many warm-blessings and gifts from them, this is unforgettable! As for the birthday wish, firstly is to wish myself a good health! Then hope my work will go smoothly. I hope everyone can support my new drama airing this month, "A Chip Off the Old Block", also hope everyone can support my second album, releasing at the end of the month!"
[Wenweipo, K]