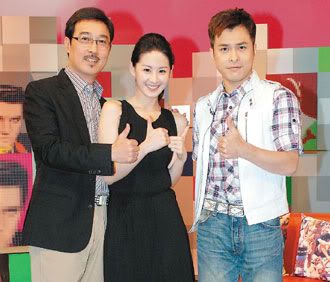 To promote for new CTV idol drama "Scent of Love," Fan Zhi Wei and Alice Tzeng Kai Hsuan appeared in
"海爸王見王"
and accepted interview from Chao Shu Hai [Mark Chao's father].
Because of ex-girlriend Cyndi Wang, Fan became the hottest topic . In the show, he talked about his views in relationships. He first admitted not good at taking care of females and felt very sorry for all of his former girlfriend. In addition, he exposed 4 months ago he wanted to introduce boyfriends for Alice, but she always rejected him.
Earlier, Fan exposed to the public that his ex-girlfriend Cyndi didn't give him her virginity and posted their close photos online. Many people criticized him as a "terrifying lover." In the show, Fan admitted he's traditional in relationships, he's willing to accept any responsibility a man is responsible for.
But when Chao asked did Fan owe for his former girlfriends, Fan said: "I owed everyone of them, in getting along or taking care of them, wasn't perfect enough in general, I'm not that good in taking care of females." Then he changed his topic and said he once introduced boyfriends to Alice, but didn't succeed.
Alice explained: "Because I'm not used to making it like blind dates to know people, so I rejected." Host then teased Fan: "Introduce boyfriends? Maybe it's you who wants to date Alice!"
Source: UDN / Translation: KAY @ Kay's Entertainment