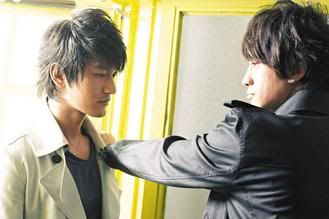 Peter Ho, Huang Xiao Ming, and Barbie Hsu are scheduled to promote for idol drama "Summer's Desire" in Beijing tomorrow. However, today Huang expressed he won't show up with the reason "need to film commercial in Japan," destroying this chance for the trio to show up at the same time.
Peter and Huang are fighting for Barbie in "Summer's Desire." From the beginning of the drama, viewers already split to two groups: For Peter (Ou Chen) and For Huang (Luo Xi). Huang's management company actually stressed Huang is the key of high ratings in Mainland press releases, disatisfying many For Peter fans.
Huang's spokesman explained Huang's sudden change: "We already told the organization earlier that we might not be able to come, so we specially recorded VCR for the event." She expressed because the filming of Huang's new movie "Orphans of Zhao" exceeds originally finishing date, Huang hasn't film the commercials he is supposed to film. But asked whether Huang is already in Japan, she expressed: "Should be, but I don't even know where he is now."
Source: UDN / Translation: KAY @ Kay's Entertainment