With new idol drama "4 Gifts" (女王不下班) joining the ratings battle this week, other dramas "Zhong Wu Yen" (鐘無艷 and "Endless Love" (愛無限) have to feature their best of the week in order to protect their spot on the ratings chart.
Been the #1 on the chart since its premier, SETTV's "Zhong Wu Yen" features Jenna Wang in her bikini this week to push ratings. In order to film this swimming scene, Jenna had to swim back and forth for many times but didn't think it's tired at all. Once wore bikini in Jay Chou's MV, this is her second time doing so but she sacrificed more for the drama.
The highest peaking point for CTS's "Endless Love" always appear in scenes where male lead Wilber Pan is being beat up. The unfortunate Wilber is being beat up again this week. He complained, "Isn't this supposed to be a romantic idol drama? How come it seems like an romantic drama with action?"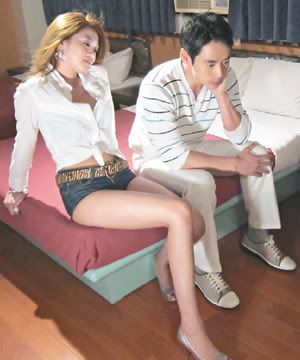 Now for the new drama produced by CTV, its first episode already feature a grand scene: Male and female lead Shiou Hsiu and Lee Kang Yi join forces to capture bad guy Blue Lan. For some sizzling scenes, pay attention to sexy model Lene Lai flirting in public and she would have bed scene with another lead Johnny Lu Si Ming soon. "I think my eyes are the sexiest. Don't just focus at my body," she said.
Source: UDN / Translation: KAY @ Kay's Entertainment