Male lead of new drama <<拜金女王>> was originally planned to be Jerry Yan. However, Jerry suddenly declined the invitation due to schedule conflict and now the lead is confirmed to be his good brother from F4---Vanness Wu.
A press conference for this drama was held yesterday and Jerry specially brought flowers himself to support and possibly trying to apologize to producer of this drama Chen Yu Shan. He didn't have much interaction with Chen and Vanness but he praised Chen is a very good producer on the stage. Chen replied: "It's good that he came. I think he is maturer."
Replacing Jerry this time, Vanness actually received an invitation phone call from producer Chen on August 27 and decided to star in the drama the next day. He said: "I always wanted to film it. But I won't force anything, maybe God heard my prayer, it's all fated." He would play a violinist who grew up at the vegetable market. He has to play violin himself. As for working with Lynn Xiong, whether he worried she is too tall? He said: "Even Jay Chou is dared to work with Chilin Lin, what am I afraid of?"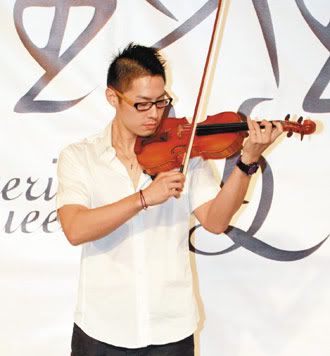 In addition, to create an international feeling idol drama, producer Chen even invited styling director from "Sex and the City 2" and "Devil Wears Prada" Patricia Field to join the crew. Field expressed Vanness has an eye-catching appearance. Vanness himself expressed he watched Field's work and is very confident in this drama. The crew is going to film outdoor scenes in Paris in October, making Vanness very excited. Producer Chen joked Vanness once said as long as he can go to Paris, he can play any character.
Source: UDN, China Times / Translation: KAY @ Kay's Entertainment