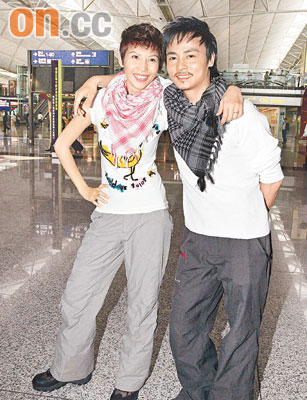 Recently a sound recording that's suspicious of being a sexual sound recording is circulating on the internet. Some netizens figured the recording is released by a Hong Kong artist on his/her Weibo (Sina Microblog). The file is removed several hours later. Based on the voice of the male and female in the recording, netizens suspect it's TVB actress Ada Choi and her husband Max Zhang.
Here's the short conversation in the recording:
Female: "Try harder!"
Male: "I can't."
Female: "Use more strength! Try harder!"
Male: "I really can't."
Female: "Not anymore?"
Male: "Can't, can't, really can't."
Female: "Use more strength! You can't just stop!"
Netizens compared voice of Ada and Max with voices of the couple in the recording and believe it's highly similiar.
Finally knew about the incident, Ada and Max immediately clear up on their Weibo, explaining it's not a sexually explicit recording. "Manager told us reporters have asked about an explicit sound recording. As for this, I want to say that it's indeed our voice," Ada admits. "However, they are scripts for a scene where we are moving sofa in a movie!," she explains. "Can't believe some people use such cheap way to promote and affect other's reputation to get attention. I'm very disappointed!"
Max seems helpless about this incident. "We didn't want to reply to anything before, but manager called us and said reporters want a response from us...I want to say there are many ways to promote...this type of promotion...sigh, I can just give it a laugh," he writes.
The couple didn't get upset by this incident. Ada is happy that her friends and fans are supporting and loving her still. Max thanks everyone for supporting them. "Actually I'm not unhappy, it's just there's a need to reply. It's good to have Weibo, can share everything with you guys," he says.
Source: 163, Weibo / By: KAY @ Kay's Entertainment