Integrated from People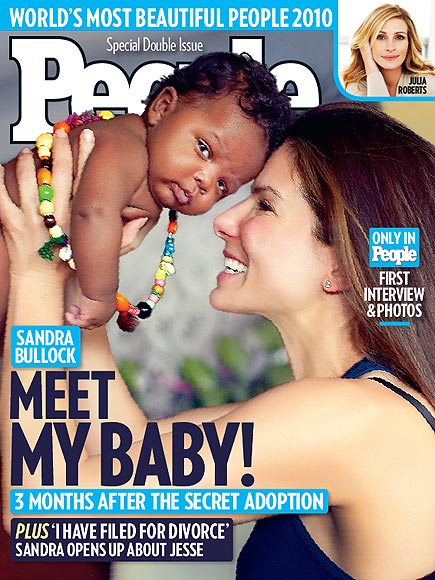 It's official: Sandra Bullock wants out of her nearly five-year marriage to Jesse James.
"Yes, I have filed for divorce," the actress, 45, tells PEOPLE in the latest issue, in which she also reveals she has adopted a son, 3½-month-old Louis.
Bullock and husband Jesse James, 41, began the adoption process four years ago and brought Louis home in January but decided to keep the news to themselves until after the Oscars. Their close friends and family – including James's children Sunny, 6, Jesse Jr., 12, and Chandler, 15 – were essential in keeping the adoption a secret.
Then, just 10 days after the March 7 Oscars, Bullock and James separated following reports James had cheated. Bullock says she is now finalizing the adoption as a single parent.
A rep for Bullock confirms the star filed legal papers seeking to end her marriage, but declines to specify in what jurisdiction they are filed. Says Bullock of her decision to divorce: "I'm sad and I am scared."
It was a cheating scandal that rocked the couple's marriage, with several women claiming to have had illicit affairs with James.
As Bullock confirms her divorce, James reveals his feelings for the news:
"Sandy is the love of my life, but considering the pain and devastation I have caused her, it would be selfish to not let her go. Right now it is time for me to beat this addiction that has taken two of the things I love the most in life.

"I have always taken great pride in proving people wrong. That time has come once again to show that I am not what everyone says I am. I know in my heart that I can be the best father possible to my four children, and the mate Sandy deserves, and realize that this is an incredible mountain to climb. But I believe that the steps I have taken in the last 30 days are the foundation for making this happen. The lifelong commitment I am making is what being a real husband and father is all about.

"I ask that you please do not judge Sandy for the things I have done. She has done no wrong. She played no part in any of this. She has been an amazing wife, mother, and best friend, for the over 6 years we have been together."