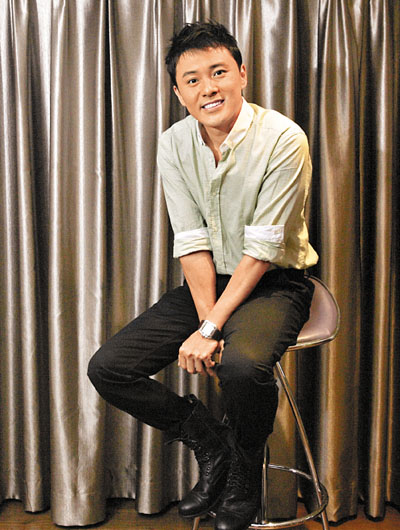 Willing to suffer and try, Raymond Cho finally makes it up top
The current music scene is pretty bad with many "one album singers". Leaving the industry, but is unwilling to, but staying there are no jobs, no hope is seen. Raymond Cho is someone who has been there and experienced the same situation, so he gave up his singing career and changed to become an actor. Back then he struggled, but looking back at it today, he feels fortunate that he decided to become an actor instead. Acting allows him to continue his career in the entertainment circle and also start a family. Currently he enjoys being an actor more than a singer. He tells everyone not to worry about the one path that doesn't work, need to understand that there is a second path, just be willing to do it, eventually there will be success seen.
After the hot
ended, continues with the hot broadcast and plus the South Africa special during the World Cup South Africa, everyone can see Raymond Cho's appearance. In , Raymond was the third lead actor, playing Frankie Tsui Wing Fai, but after the series ended its broadcast, leaving the deepest impression on viewers is not lead actor Moses Chan, but is third lead actor Raymond Cho, the one standing out is him. TVB also knows this, so immediately sent him to do the South Africa World Cup special to relax a bit. He said with a slight smile: "It is considered a reward, at that time I had free time, pretty lucky!" In another perspective, does this mean that Raymond finally have some status in TVB? "Well it's not that special. Having series broadcast is beneficial to anyone's popularity. There are times that I don't have any series to film."

Does he feel he made an achievement playing the role Frankie Tsui Wing Fai? "I really like the series, it has a fresh feeling. When we were filming, we all also felt that the role Frankie will be stand out. We had high expectations because personalities of the characters are extreme. From a simple, honest, obedient boy who gets bullied, to a revengeous strong bullying evil man. However, receiving praises from others of my results, to me is a happy thing. It does not represent that I am good, that is a very exaggerated step. It proves that I can handle a complicated role. In the future, people will have more confidence that I can do well. I have been in this industry over 10 years, finally have an explanation for myself."

Is Raymond director Chik Kei Yee's favorite, before he was in her as Heung Chung Yan and then as Tsui Wing Fai. "Perhaps my appearance looks a little stupid, the director chooses me to play these types of roles." In , his role is the simple taxi driver who is married, once again the acting style is done differently. For this role, he can act it out comfortably because he also has a wife and son in reality, so it's easy to get into character. Some actors would think that being the lead actor in one series and then a supporting role in another series, feels like they got demoted, and it doesn't feel good inside. However for Raymond, he always has a positive attitude, he does not care about the screen time, just that there is an opportunity to be in the series because he has experienced a period where he had no jobs, so he especially cherishes every opportunity.

Still want to be in a villain role

Asked what role he really wants to play again? He said: "I really want to do a villain role again because changes a lot, can easily get the results out, a good personal challenge. Before his villain roles are rather obvious. Good people are often nice citizens, the role can help you achieve the results more. Also I really would like to do a comedy role and see if I'm qualified, plus people can watch happily, and I can act happily. (Father-in-law John Chiang gave you advice?) No, he understands that every actor should be respected for the way they act, he cares about other people's feelings. Unless you ask him will then he'll give you advice, like for , we had scenes opposite of each other. Sometimes I went over in my acting, sometimes I didn't do enough, he'll then advise me. Their generation really follow the Chinese traditions, speak at the appropriate time."
Halt in music career development, struggles through poverty and borrows money
Raymond started out as a singer. At first he went from a singer to a movie actor, and finally entered TVB to be a television actor. For what reason? "Very simple, no jobs. I released my debut album in 1994, then I received 1 album each year from 1996-1997. Usually I just count on stage work and government promotional events to earn money. Then I didn't even have the opportunity to release any more albums. So I tried to film movies, went to Malaysia, but no role was suitable for me, I looked at my salary going from high to low. I knew deep down this isn't working, but I was helpless. I did not have many other paths to choose from, I was really down. One time I had no money for food, so I had to borrow from someone, I had credit card debts and eventually I even did part-time jobs in hope to change my luck. The heavens is strange, when I'm not able to go on, there was someone who asked me to act, and that lasted me for some time. Then I went to see my old manager and friend Ivy (currently Sammul Chan's manager) to talk, I wanted to get in TVB and she would help me. I decided to just treat myself as a newcomer and start fresh from TVB. I was just looking for some hope, if I get popular I'll go back to singing."
Forgot about singer status
Currently the music scene is not looking too good, there are many young singers that aren't getting anywhere. Raymond has been there and experienced this before, he truly understands how they feel. "Before when I was a singer, I just wanted an open path to go down, I like to sing, I had high confidence to be a singer, so I will definitely focus in this area. Later, I gave up. I understood that there are many other choices to choose from in life, so I was willing to try other things. At the time, I didn't really like to act because I was adapted to singing, the sound of audiences, applause and I am the one who receives the credit. In acting, you are working with a group of people, the credit does not belong to you, but I can't turn into a death path, I decided to take the first step. I hoped for a chance to be popular from filming series. After I started filming series, I found out that I was much more happier than when I was a singer. As a singer, you have jobs today, but you don't know if you'll have any tomorrow, income is unstabled. That won't happen when your acting. I got into acting, I did well and the public had more and more positive responses, naturally I had more confidence to continue with it. I felt that I accomplished something, finally found my career. Today, my interest for acting is growing by the day. I already forgot my singer status."
Music Industry changed
Raymond felt that the current music industry has changed, the main focus is on how the outer appearance and packaging is like. In the past, to be a singer, you have to be able to sing, it is inevitable to do live performances, rarely will there be lip-syncing. "Currently live singing seems so prestige, the phenomenon is strange. Our generation, everyone does live singing, sings based on ability, if the album doesn't sell well, then there's no choice. This industry is about favorable factors and hard work, one day the heavens will give you the opportunity to bounce up. Steven Ma, Bowie Lam, Moses Chan and Wayne Lai all have suffered a period of time before making a breakthrough. Of course, if you aren't willing to work for it, then even if there is an opportunity, it is useless."
Family Pressure to earn more money
Raymond's wife is John Chiang's daughter Elaine Chiang. The couple got married November 2007 and have one son. After marriage and having a family, does he feel pressured or forced? "Pressure. I do have power, the pressure is not because I married a star's daughter, but I am the man of the house, I hope my career does well, earn more money to support the family. I came from a family that struggled, I hope to provide a better environment for my parents, wife and son. Give the best education to my son, not spoiling him, but hope he is competitive enough for the future. Currently there are many spoiled children that just open their mouths for food, lazy workers, I do not hope to see that in my son when he grows up. When there is an opportunity, I will have him suffer a little, then will he grow up well." The current Raymond Cho although has more experience than the youngsters, he jokes that he's still a shining man, and that is because he already found hope, found happiness! God does not let hard working people suffer!
Source: Wenweipo / Translated by: aZnangel @ asianuniverse.net