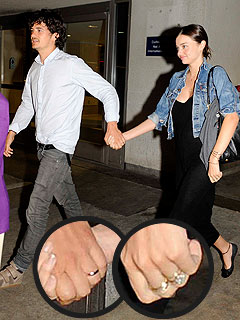 After jetting off to the Caribbean after their wedding, newlyweds Orlando Bloom and Miranda Kerr returned from their honeymoon showing off some new accessories: matching gold wedding bands.
The Lord of the Rings and Pirates of the Caribbean British actor, 33, and the model, 27, arrived at Miami International Airport and then flew on to Los Angeles International on Monday morning after vacationing for about four days.
As the two happily honeymooned, mother of the bride Therese Kerr told PEOPLE, "They truly are a gorgeous couple, are very much in love and bring out the best in each other … We are thrilled to welcome Orlando into the Kerr family."
From People